Expert Sunrise Painting Contractor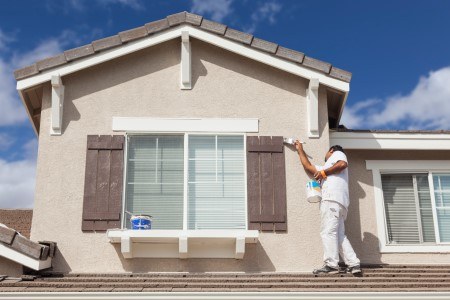 Painting your Sunrise, FL home or commercial property is more complicated than it appears on the surface. Before entrusting just anyone to prepare and paint your home or business, you'll probably spend some time looking around to see who you can find. You've come to the right place if you're looking for affordable, quality workmanship and durable, quality painting and specialty coating products.
With Precision Painting & Waterproofing, our painting and specialty services will result in quality finishes and beautiful paintwork. We are quick and neat with affordable prices. We offer both residential and light commercial professional interior and exterior painting services.
When we work for you, we paint all walls, ceiling, doors, and wood work any color with expert results. Specializing in residential homes in the Sunrise area of Florida, our painting contractors know how to give you the professional results you seek.
Residential Painting Services in Sunrise, FL
When it comes to your home, you're looking for professional painting contractor who can give you the most. You want the best and you deserve nothing less.
Top quality, affordable, skilled professionals the Lebanon County painters are proven professionals, skilled in all areas of painting and in many applications, as well as drywall repair and replacement, house staining and painting all interior exterior painting.
We know that affordability does not mean we cut back on quality. Unfortunately, some companies will tell you to pay more means you get better quality results, but we know that to give you real value we need to do the professional work we promise to do. All our work consists of quality products and affordable, competitive prices.
Commercial Painting In Sunrise
Commercial painting can be done for your commercial offices, retail shop, service company, medical clinics, and more. We provide light commercial painting and specialty coatings to waterproof and protect your building materials. Before entrusting other companies to give you professional painting, come to the experts at Precision Painting & Waterproofing to get the most in Sunrise.
Specialty Services in Sunrise
When you choose Precision Painting & Waterproofing, you'll have all you need in specialty coatings, waterproofing, special textures and finishes, and more. Our services are always provided with expertise and professionalism. We work hard to give you the most in painting services to suit your individual needs.
Customer communication is a priority that determines the outcome of the painting project. We know how important it is to ensure our customers have complete satisfaction with our workmanship and faith in the quality of materials we use. We provide you with specialty services to help protect your building, keep it clean, and make it attractive.
Professional Painting Services We Offer:
Interior Painting
Exterior Painting
Faux Finishes
Wood Staining
Waterproofing
Pressure Washing
Epoxy Finishes
Textured Finishes
Commercial Painting
Industrial Services
Latest Projects in Sunrise