Fort Lauderdale Pressure Washing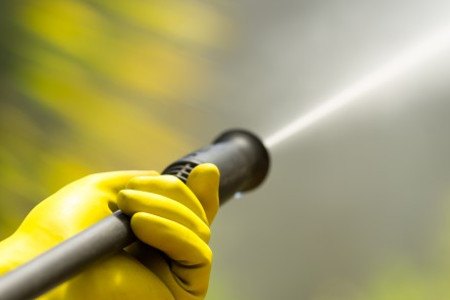 If your Fort Lauderdale area home or commercial business is looking a little run down or dingy and dirty, it's time to get all the soot from the combined dirt, rain, and air pollution washed away with the right technique in Fort Lauderdale pressure washing. Pressure washing can remove years of accumulated surface dirt, algae, ground in gum and other debris, and more on many surfaces.
Pressure washing can restore the look of your wooden surfaces, your roof shingles, your deck or concrete walkways, and your siding, walls, fences, and more. Professional pressure washing restores a like-new appearance that makes your property fresh and clean, sparkling like it did when new.
Pressure washing services are available for local area homes and commercial buildings in the Fort Lauderdale area by Precision Painting & Waterproofing. The pressure washing services at Precision Painting & Waterproofing offer you the most in restoring and keeping your surfaces clean and attractive.
The Pressure Washing Difference
Whether it's the siding of your home or the roof or even your fences, pressure washing in Fort Lauderdale can go a long way to restoring the look of your exterior surfaces. But you don't wan to just hire anyone to do the job or your surface materials could be at risk. The last thing you need is a pressure washing technician who destroys your old stucco wall materials or knocks off your old porous brick.
At Precision Painting & Waterproofing, we handle your building materials with great care when we provide you with our pressure washing services. In fact, the gentler approach within the power washing industry is a learned skill that needs experience over time. Your expert Fort Lauderdale painting contractor provides professional pressure washing services.
Professional pressure washing equipment is world's apart from the general consumer powerwashing equipment you can rent or buy. It's extremely more efficient and powerful. It's also capable of giving you a softwash technique that is still more powerful than any machine you can rent or buy at your local hardware or home improvement store.
Keep Your Home Or Commercial Business Up With Pressure Washing
Let us help you keep your home or business exterior looking great with our pressure washing services. Using our pressure washing services once or more a year will help keep your property looking great. We'll give you professional results that will amaze you! You'll be surprised how beautiful the exterior of your home or business will look again!
Fort Lauderdale Pressure Washing Services
Pressure Washing
Exterior Pressure Washing
House Pressure Washing
Commercial Pressure Washing
Patio Pressure Washing
Deck Pressure Washing
Soft Washing
Pressure Cleaning
Power Washing
Pressure Wash Service
Power Wash Service