Fort Lauderdale Commercial Painting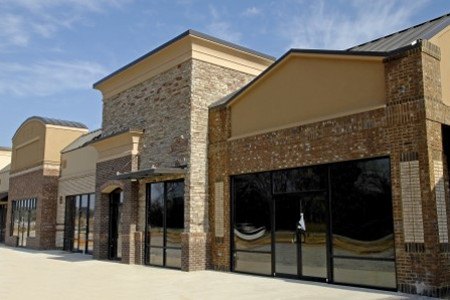 If you're in the process of planning an exterior or interior painting project for your Fort Lauderdale area Commercial building, call on the professional Fort Lauderdale commercial painting contractors at Precision Painting & Waterproofing. We can give you more to make your commercial building stay beautiful longer.
We use high quality paints for your commercial property and can give you specialty services such as textured finishes, textured finishes, wood staining, epoxy coatings, powerwashing, algae removal, and more.
As a professional Fort Lauderdale painting contractor, Precision Painting & Waterproofing can handle all your commercial painting needs for the interior or exterior. Whether you have a retail store, offices, bank, clinic, or other commercial building, we'll be happy to provide you with a friendly estimate.
If you're interested in more than just a quick paint job that's applied sloppily, call on our pros who will make sure your commercial painting projects are handled right from beginning to end. It takes quite a bit of skill to give you a great looking finish that you're proud of. And nothing could be more important for your commercial building because it represents your business or your tenant's business.
Specialty Services & Special Exterior Coatings For Commercial Buildings
Having a great paint job from a professional Fort Lauderdale area painting contractor may not be enough for your commercial building. You may greatly increase the value and longevity of the property by having a special coating applied to your commercial exterior walls or roofs.
At Precision Painting & Waterproofing, we can give you several options to protect and seal your commercial exterior surfaces. Not only will your paint and surfaces stay fresh and bright looking for years longer, you'll also be ensuring your exterior building materials are protected against abuse and moisture damages.
From the growth of algae to things that damage the surfaces (like hail), special coatings can extend the life of your exterior walls and roof shingles for possibly decades. Waterproofing and epoxy finishes give your commercial exterior surfaces longevity.
Precision Painting & Waterproofing Cares
Nothing could be more important to our painting contractors than to do good quality work. We strive hard to give you the outcome you're looking for. We can help you create a beautiful, appealing commercial building that stands out amongst your competition. And with our focus on quality products and special coatings, you won't get better longevity out of the project.
So if you're ready to increase the aesthetic value of your commercial property, bringing the property value up as well, call on the painting contractors you can trust - Precision Painting & Waterproofing where your best interest are always on our mind!
Fort Lauderdale Commercial Painting Services
Commercial Painting
Commercial Paint
Paint Commercial
Business Painter
Painting Commercial
Paint For Commercial
Commercial Painting Estimate
Business Painting
Retail Store Painter
Paint Retail Store
Paint Business
Commercial Painting Services