COVID-19 Statement
We're Here For You!
Precision Painting & Waterproofing is still operating and ready to help.
Our Painting & Waterproofing Specialists are taking every precaution to keep our customers and themselves safe. Call one of our Painting Specialists today!
Skip to Main Content
Painting of Metal Screen Enclosure In Fort Lauderdale, FL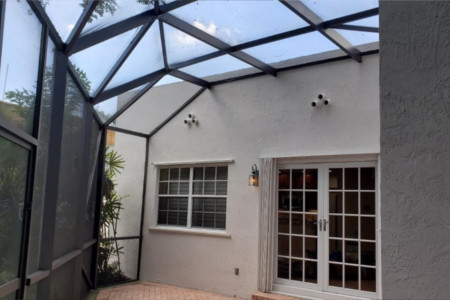 At this house in our Fort Lauderdale painters pressure washed the metal screen enclosure then painted it with one coat of Sherwin Williams SherCryl and one of Sherwin Williams ProCryl. The original color was white which stuck out like a sore thumb with the wooded area surrounding. The new brown color made it blend in better.
Metal Screen Enclosure in Fort Lauderdale, FL Photos
Contact Us
If you are looking for a Fort Lauderdale painting contractor then please call Precision Painting & Waterproofing at 954-667-3766 or fill out our online request form.