Fort Lauderdale Interior Painting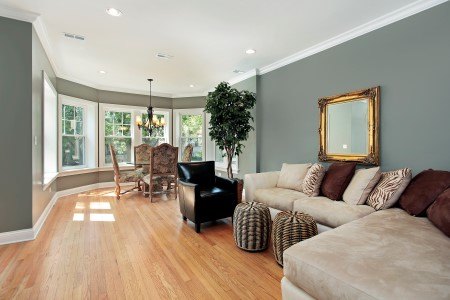 At Precision Painting & Waterproofing, we take great pride in the outcome of our Fort Lauderdale interior painting projects. You can expect us to deliver nothing less than a first class service from the beginning to the end of your Fort Lauderdale interior painting project. With our customers satisfaction always on our minds, the Precision team's job is not done until you are 100% satisfied!
When planning an interior painting project in your Fort Lauderdale area home, it is very important to make sure the contractor you choose takes pride in their work so the outcome of your project is exactly what you expect. There are many ways a skilled interior painting contractor will ensure your satisfaction, with the first being proper preparations for the project.
Proper Preparation Determines Your Interior Painting Success
Prep work for interior painting has to be executed properly, or you will definitely receive less than pleasing results. Taping off outlets, fixtures, trim work, and other areas is part of every successful interior painting project. Protective covers for flooring and furniture is something every professional Fort Lauderdale painting contractor should know to use. Cleaning the surface areas prior to interior painting is also important.
Choosing quality painting products makes a big difference in how well the paint covers the interior surfaces of your home, how long it protects your walls, ceilings, and woodwork, and in how long the fresh color lasts. Using a high quality product is going to give you an exceptional finish that lasts. Let us do it right the first time and you certainly won't find yourself needing to repaint your Fort Lauderdale area home any time soon.
Quality Craftsmanship For Specialty Services, Faux Finishes, Wood Staining
Interior painting requires the skill of a professional if you want the project to turn out right. The interior of your home may need Textured Finishes, or Faux Finishes and Wood Staining. Make sure your Fort Lauderdale painting contractors are able to handle these Specialty Services well.
Specialty finishes take great skill along with talent, taking many years to develop. While just about anyone can grab a roller and apply paint to a wall, ensuring the finish looks professional is not easy. Our Fort Lauderdale painting contractorscan give you professional results for your interior painting projects every time.
When you choose our professional Fort Lauderdale painting contractors, you're choosing a company who can transform your home's interior into a beautiful masterpiece.
Your home is important to you, and we strongly believe in home and family. In our line of work, we have the opportunity to make your home beautiful and unique, which is what you deserve. We know you've already put a lot into your home and that you're looking for a Fort Lauderdale painting contractor you can trust to make your interior painting project a success.
Fort Lauderdale Interior Painting Services
Interior Painting
Interior Paint
Paint Interior
Interior Painter
Painting Interior
Paint For Interior
Interior Painting Estimate
Interior Painting Service
Interior House Painter
Interior Home Painting
Estimate Interior Painting
Interior Paint Service
Latest Interior Painting Projects