Fort Lauderdale Waterproofing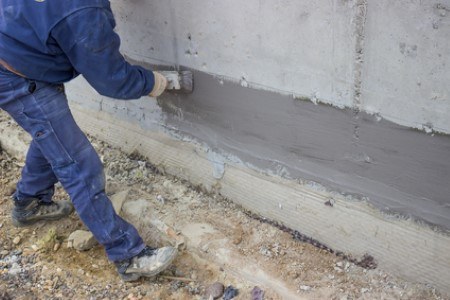 Fort Lauderdale Waterproofing Services are available for local area homes and commercial buildings. Waterproofing can be done for your commercial roof, balcony, deck, siding, and more. The waterproofing systems at Precision Painting & Waterproofing offer you the most in protection and sealing to keep your surfaces safe from the damages of moisture.
Over time, your exterior and interior surfaces can become damaged due to moisture. When the exterior surface seal is worn down, the materials underneath start to become exposed to the elements. Moisture can get underneath your siding, shingles, wall textures, wooden surfaces, and other areas. These materials can be very vulnerable to the effects of moisture and can easily start to degrade.
For instance, in your home or commercial buildings interior, textured finishes like popcorn ceiling or wall textures are highly affected by moisture. They will begin to peel and have to be repaired or removed when there is too much damage. This is a costly project that takes a lot to have done. Instead, protect the surfaces by waterproofing the exterior layer and your building materials will last. Call on Precision Painting & Waterproofing, your expert Fort Lauderdale painting contractor for quality Waterproofing services in and around the Fort Lauderdale area.
Waterproofing Services For Fort Lauderdale
Commercial Waterproofing
Residential Waterproofing
Interior And Exterior Waterproofing Systems
Below Grade Waterproofing
Above Grade Waterproofing
Flood-Proofing Damp-Proofing
Vapor/Air/Moisture Barriers
Joint Sealants
Caulking & Fire Caulking
Balcony & Deck Coatings
Hot & Cold Applied Waterproofing Systems
Waterproofing Adds Years Of Life To Your Surfaces
Waterproofing your new construction or for resealing purposes gives longevity to your home or building surface structures. You can have literally decades added onto the life of your roof, siding, decks, and more. In Fort Lauderdale, nothing could be more important than a waterproof coating due to all the humidity we face every day.
Sealing and caulking is important if you want your surface materials to last and last. And there's no sense in having a painting or staining project done unless you ensure the exterior seal is perfect. Moisture sneaks its way into even tiny little holes, so the proper application of the waterproof coatings is as important as the quality of the product itself.
Why Precision Painting & Waterproofing Is Your Best Waterproofing Contractor
Precision Painting & Waterproofing can give you that quality waterproofing finish that lasts. We take detailed applications and precision very seriously when we work on a painting specialty service for you. After years of professional experience in powerwashing and painting, we know how important it is to protect your home or business with a good waterproofing product.
At Precision Painting & Waterproofing, one of our primary goals is to help you create a long lasting surface finish for your home or business. Sealing your surface areas with waterproofing makes your paint and other finishes stay brighter longer. With these high quality applications, we give you more value than standard painting alone. Give us a call to learn what waterproofing can do for your Fort Lauderdale area property!
Fort Lauderdale Waterproofing Services
Waterproofing
Waterproofing Service
Commercial Waterproofing
Business Waterproofing
Waterproof Commercial
Waterproofing Business
Waterproofing Estimate
Business Painting
Retail Store Waterproofing
House Waterproofing
Inteior Waterproofing
Exterior Waterproofing
Latest Waterproofing Projects