Exterior Painting Your Fort Lauderdale Home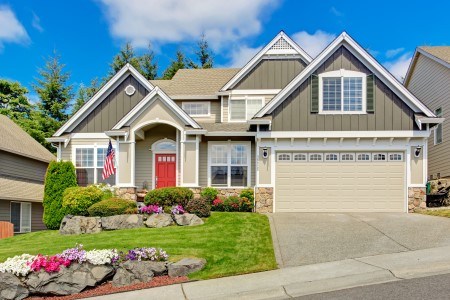 Precision Painting & Waterproofing takes pride in the outcome of your exterior painting projects in Fort Lauderdale. With a team dedicated to customer satisfaction and professionalism, our staff will work hard to ensure the project is completed exactly the way you expect.
As professional Fort Lauderdale exterior painting contractors, helping plan the exterior painting for your Fort Lauderdale area home is a fun and exciting process for us. Upon completion, you'll have a magnificent exterior that looks fresh and is well protected from the elements. It is important to make sure the painting contractors you choose take pride in their work, so the project outcome is successful. Otherwise, you'll be stuck with sloppy work that does not correctly seal and protect your home from the elements.
From beginning to end, the entire exterior painting process needs to be executed properly to deliver the highest quality results. The first step will always be proper planning and proper surface preparations for the exterior painting project.
Proper Preparation Determines Your Exterior Painting Success
Preparations for your exterior painting project will include the proper cleaning of surface areas, along with repair and sealing of any building materials showing signs of aging or damage.
Using the highest quality painting and sealing products available makes a huge difference in how well the exterior surfaces are protected, how long they are protected and the fresh color will last. High quality paint gives you the most favorable results for your exterior painting project. You won't need to repaint your Fort Lauderdale area home every few years any longer.
Specialty Services, Special Exterior Coatings For Exterior Painting
It's important that your exterior Fort Lauderdale painting contractor can give your home's exterior a lasting finish with a good quality paint, but to make your exterior stay protected even longer, you can have special exterior coatings applied that will make it seem like forever until you need to repaint again. You want to be sure your painting contractors are able to handle these Specialty Services well.
Special finishes require educated skill and plenty of experience. Our Fort Lauderdale painting contractors can give you professional results for your exterior special coatings every time. Before every exterior painting project we handle, we always make sure your exterior is properly cleaned with a good power washing.
We also ensure your textured exterior (like stucco) is in good repair so no moisture can get in behind it. After painting, we can apply several options in special coatings such as epoxy finishes or waterproofing.
When you choose our professional Fort Lauderdale painting contractors, you'll have beautiful, long lasting results for your home's exterior. We take pride in your 100% satisfaction and will work until we achieve the results you are proud of.
Fort Lauderdale Exterior Painting Services
Exterior Painting
Exterior Paint
Paint Exterior
Outside Painting
Painting Exterior
Paint For Exterior
Exterior Painting Estimate
Outdoor Painting
Exterior House Painter
Exterior Home Painting
Ourdoor Home Painting
Outside House Painting
Latest Exterior Painting Projects