5 Safety Considerations During Fort Lauderdale Painting Projects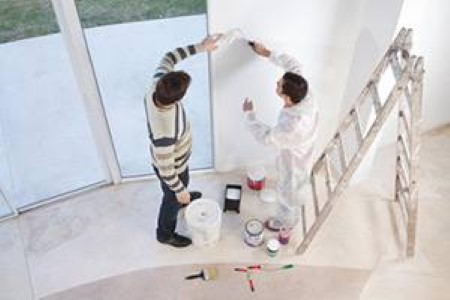 Whether you hire out for your Fort Lauderdale painting contractor project or you decide to tackle the job yourself, there are safety practices that need to be in place to ensure your protection as owner of the property as well as the protection of your customers or friends and family. Safety should always be a priority when you're updating, remodeling, or painting.
Your fitness level. Always make your fitness level a top concern when you're planning a project such as painting your home or commercial property. If you're not fit enough to handle climbing on ladders and balancing around with all the painting equipment, you would be wiser for you to hire out the work. If you're only partially fit, then consider painting just one room at a time or stretching out the work for more than a couple of sessions.
Ladder levelers and the right ladder length will increase your safety. Over 70% of all ladder accidents are caused by ladders that were not level or were rigged with an uneven leveler. The right Levelers will bolt onto the legs of your ladder providing a very secure fit and do a perfect job at gripping and leveling the ladder for your use. Ladders that are too short are dangerous, always be sure you have room for several more steps at the top than you'll use and that your ladder is completely stable. Stabilizing the ladder is priority.
Be sure you choose the right drop cloths that aren't too light and don't allow paint to drip through. In different areas, the type of cloth you use to cover furnishings and plants should be different than those to cover flooring. Heavy canvas drop cloths will not damage most shrubs, bushes, or hard surface areas but can damage other delicate plants and home furnishings or decorative items. Use them only on the flooring or strong furnishings in the home. Light drop cloths can be used over delicate areas.
Keeping yourself properly hydrated couldn't be more important if you're doing a project like painting your home's interior or exterior. With outdoor temperatures, ensure you get the right amount of fluids especially when spending time in the sun. Drink plenty of cold Gatorade to renew your body's electrolytes. You loose a lot of water when you sweat so you'll have to do the most to get it back. Painting outdoors in the sunlight will dehydrate you very fast and can cause dizziness and nausea which is dangerous if you're high up on a ladder.
Be sure you're taking plenty of stops to rest in the shade or in the indoor cool air. Painting the exterior of your house is very time consuming, though most people don't realize how much. We all like to think we can get projects like this done in a day or two, but even if you are extremely fit and ready it will likely take much longer. Thinking you're ready for such a project without making sure you're resting and taking it slow can get you in trouble physically and become a huge mistake.
Finally, if you ever start a painting project and need to call it quits, don't ever hesitate. It's better to be safe than sorry and pushing yourself beyond your personal limits and into dangerous ground is neither smart nor healthy. Always know that there's a painting company in the Fort Lauderdale area who will come give you an estimate to complete the work for you. Call Precision Painting & Waterproofing anytime you need us for any of your painting projects and we'll be glad to come help you out.