Specialty Painting Coatings Give You Much More Than You Expect In Fort Lauderdale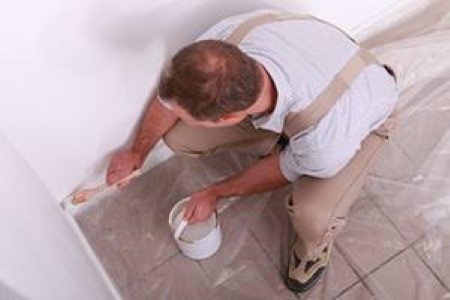 Your Fort Lauderdale area home or commercial property can be enhanced with a protective coating that's right for your unique needs. Whether you have an algae growth problem, roof stain problem, or need protection for your siding or flooring, we have the right solution to help you.
Epoxy finishes can make your flooring materials so strong and durable that you'd have trouble damaging them even if you tried. With advancements in technology, epoxies and polyurethane coatings have only become more durable and better with each new improvement.
There's so many benefits to these remarkable specialty coatings that it's difficult to list them all. Not only will you have a waterproof seal against the damaging affects of moisture, you'll have a great many years of usefulness and durability for your underlying building materials, paint, and textures.
Increased Adhesion - Talk about stick! The specialty coatings you'll find at Precision Painting & Waterproofing, your Fort Lauderdale painting contractor, will stick and expand, staying flexible and allowing the substrate to continue expanding and contracting along with it.
Durability Increased - With today's new coatings, you have more beneficial durability than ever before with better impact resistance and ease of application.
Curing Time is Decreased - The time to dry process has always been a problem with specialty coatings, but no more. Today's high-tech systems work in a number of different areas over a period of time that results in flexible paint that's incredibly hard but not brittle.
Chemical, Solvent, and Dirt Resistant - There couldn't be a better way to improve a coating than to make it resistant to obviously damaging elements. When the products dry, keeping it free from other issues that would make it dirty or unable to cure properly is important. Protection after drying needs to be just as strong.
Anti-microbial protection - Microbial organisms are organic substances like bacteria and algae, yeast and mold or mildew. Effective coatings resist these harmful microorganisms to keep your building and occupants safe against their destructive forces. Our specialty coatings and other solutions can rid your roof and siding of algae and other harmful organisms and keep your home or commercial property protected from them.
Long lasting, durable finishes - When you have a coating of paint that's protecting your home, there's no better way to make it last longer than by applying a protective coating and sealants. You're getting an extremely long lasting, durable finish that seals and protects for decades.
UV Protection - our specialty coatings can protect your property from the harmful heat rays of the sun. UV rays come from the ultraviolet light waves of the sun and are the cause of heat. Harmful in many ways, UV light can also cause your paint to fade, your finishes to crack and peel, and more. Shielding your home or commercial property with UV protection makes the painted or textured finishes stay flexible and last longer.